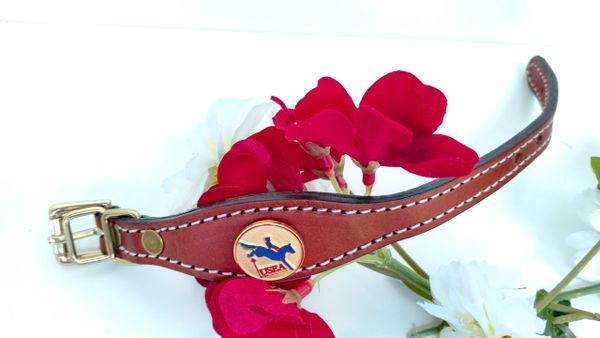 Chestnut Trail
Generations of craftsmanship in every hand-made piece. Our bench-made bracelets have true stitching and hand burnished edges that will never fray. Lined with the same quality materials and hand -stamped with our brand. The profile band is refined and contoured for all day comfort.Display any standard lapel pin.Click and switch display easily.This patent pending band has a unique built-in pin clasp. Requires no bulky pin backs.Hand-made in the USA. Quality roller buckle makes this item fully adjustable. Pins sold separately. Add a Slide-On I.D. for $16.00.

Complimentary for all disciplines. Match your boots and appointments.
Gold roller buckle makes this fully adjustable for child or adult.